Packaging & Branding
Food Innovation in Fresh Produce Marketing and Packaging
Innovation in fresh produce packaging from Seeds & Chips 2019, Milan
Written by Nir Esquira*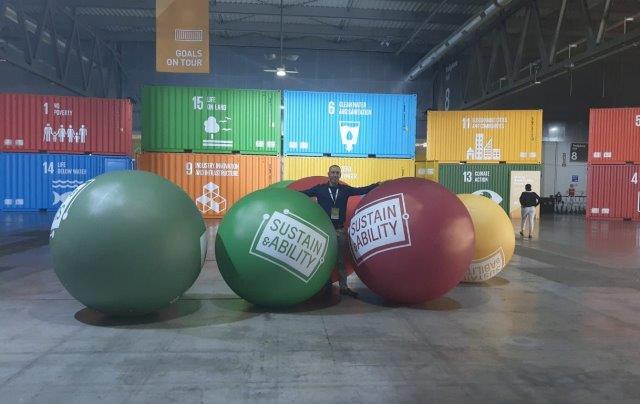 Marketing and packaging of fresh produce had a major presence at the 4th Seeds & Chips summit in Milan, offering us a glimpse at new trends and technologies that are likely to land in retail stores and online shopping sites in the coming years.
In recent years, the seeds & chips event is one of the leading food innovation events in the world. The event puts an emphasis on bringing together companies, researchers, regulators and inventors from across the industry to create a sustainable future in the Agri-food sector. Many of the companies are committed to meet the United Nation's 17 Sustainable Development Goals (SDG). More than 350 exhibitors, numerous speakers, and more than 12,000 visitors came together to learn and share information about the possibility of driving positive change and innovation to the rather conservative food and agriculture industries.
Unlike previous years, the event took place alongside but in separate pavilions from "Tuttofood", an international B2B show dedicated to food & beverages. This is perhaps the clearest evidence that in order to drive innovation into traditional agri-food industries, it has to be done cooperatively and with the understanding that R&D and implementation processes in those industries can sometimes take much longer compared to other emerging or traditional industries. The main innovation trends presented were alternative B2B marketing channels, traceability measures, transparency for value chains, new materials for sustainable packaging solutions and much more.
In an event wh
ich is also a business summit, a discussion about fundraising is bound to arise.
EIT FOOD, The European Organization for Innovation and Technology in the Food Industry (which happens to have 3 senior Israeli members), has recently identified a gap between the ease with which money can be raised at the growth stage of companies, as opposed to the difficulties of raising money in the early or pre-seed stages. As a solution, the organization launched several programs for small companies and young entrepreneurs.
One of them is the "SEEDBED", a pan-European pre-accelerator program whose purpose is to offer financial and organizational assistance for young entrepreneurs to determine whether or not there is a market for products or services that utilize innovative agri-food technologies. Since the objectives of EIT FOOD and the Seeds & Chips Community correlate with the principles of the SDG, many entrepreneurs and companies that receive support usually comply with the SDG principals.
Innovation in B2B marketing channels was mostly about "flattening" the value chain, strengthening local producers and using transparency as a marketing strategy. A unique approach to these challenges was introduced by "Direct Market", currently operating in the Paris region. The company offers a solution to manage the supply of local fresh produce on a large scale. Using both a certificate and a network of distribution channels, the company is able to offer unprecedented transparency for the customer at the point of sale. On the one hand, they offer a certificate that guarantees the products are local, and on the other hand, it is clear how the price is divided between the producers, the store, Direct Market itself and logistics costs. Direct Market's solution integrates into existing retail stores operations.
Locality, traceability, and transparency. Local and additives free products are the highest priorities for French fresh produce shoppers.
Another approach to "shorten" the distance between consumers and producers was introduced by "Producers Market". This company is offering a solution to the age-old problem of producer exploitation. "Producers Market's" digital platform allows growers to reach distant markets while also getting media exposure that can pave the way for brand building. The company's vision is to scale the value chain for producers through secure communications, innovative marketing and access to a global financing network.
Since publi
c opinion and regulation in Europe has been shifting away from plastic, it is not surprising to see that innovation in this field is about the reduction of plastic use and the introduction of good, cheap substitutes for it. At the large Israeli booth, A company called "Tipa" demonstrated a bio-based, compostable and flexible solution for plastic packaging, fresh produce packaging, and packaging for other perishable goods. "Tipa" offers fully compostable packages for Bananas, Apples, Carrots, potatoes and more.
Additionally, the French company "Lactips", introduced a biodegradable film for home compostable primary packaging made with milk proteins and plant-based materials. The film is a food contact material and is especially good for personal packaging of a variety of hard or soft food products, as well as capsules of non-food liquids such as detergent.

"Lactips" – The milky way of plastic. The raw material is transformed into film
SIRAP, a fresh food packaging company based in Italy, has presented its latest developments in the field of recyclable packaging for chilled food. Their packages are aimed at improving the retail experience of consumers and prevent food waste. One innovative approach they offer is packages that are designed specifically for vending machines for personal healthy meals. Each ingredient is packed separately, so that shelf life is maximized.
Packaging sho
uld play an important role in the marketing of fresh produce, and if used wisely, can help small and large manufacturers communicate key values and distinguish themselves from competitors. In addition, using packaging is a major tool in reducing food waste throughout the value chain. For example, the Israeli company "EVIGENCE" presented a sensor sticker label that indicates change in temperature and time inside packages. It provides brands, retailers, and consumers a new way to monitor the shelf life of perishable products in real time. The labels are low cost and can be implemented in existing packaging solutions.
In conclusion, the Seed & Chips community seems to be gaining momentum and attracting entrepreneurs, policymakers, established and up-coming companies from around the world. During the impressive closing ceremony, another summit was announced to be held in Rwanda in 2020 and in Melbourne, Australia in September. The next event in Milan will take place in May 2020.
Nir Esquira is a participant of the XLR8 Foodtech accelerator and an active member of the "Innovation Foodtech community" by Israel initiative 2020 ".