Indoor Farming
Farm to table? Urban farming? Local produce? – TAPKIT Hydroponics
TAPKIT is a complete package which includes the greenhouse, NFT, hydroponic system, nursery, packing equipment and a fridge
The covid-19 long-term impact is still to be uncovered, but its influence on some of the trends in agriculture, is already here.
The importance and relevance of some of the trends already started during recent years, like farm to table, urban farming, food security and locally-grown produce become more tangible.
While large amounts of money are invested in vertical and indoor farming, where the business model is questionable, to say modestly, TAPKIT offers an alternative that is down-to-earth, applying advanced and efficient hydroponic growing practice that is affordable and profitable. Proven. Globally. And no previous experience in hydroponics is needed.

TAPKIT is a 500m2 hydroponic system with supporting App for mobile. It is offered in 4 models, for different climate areas: Sub-tropical, Tropical, Cold and Desert.
The iDroponics mobile App, provides all the support needed for the client (the grower) on his day to day operation of the TAPKIT. It starts with detailed TAPKIT-installation, step-by-step guidance including videos demonstration. It is then taking the grower through the seeding, planting and harvesting processes with easy to navigate through trouble shooting and FAQ's based on 20 years of experience in hydroponics. iDroponics also includes seeding, transplanting and harvesting planning tool, fertilization formulas, and optional monitoring of essential sensors installed in the greenhouse.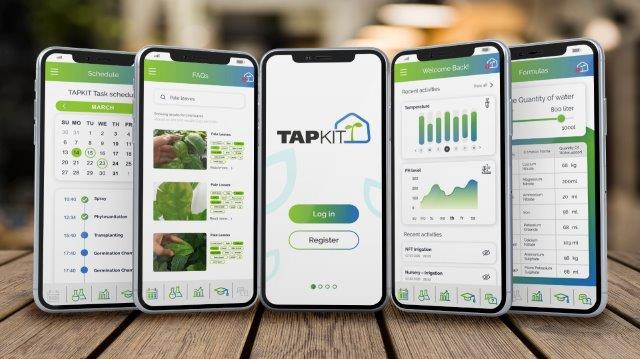 TAPKIT is a complete package which includes the greenhouse, NFT (Nutrient Film Technique) hydroponic system, nursery tables for growing of the seedlings, packing equipment and a fridge for the packaged produce.
With annual production of over 125,000 heads of lettuce and pak choi, or over 250,000 bunches of fresh herbs, or any other combination between the two groups of crops, TAPKIT is an affordable investment making a profitable, short ROI Micro-farming business.
TAPKIT was recently chosen for the finalists of Ag-Tech startups competing for the prestigious sustainability award by the UK's Sustainable Fast Track Award Program.

TAPKIT offers the best ROI comparing to all other urban farming and vertical farming solutions. For equal investment of 70,000-100,000USD, TAPKIT produces 3-4 times the annual yield, for fraction of the production cost energy wise.
TAPKIT's proven record includes installation around the globe, in Israel, South Korea, the Philippines and Mauritius. Coming next are installations in the US, Aruba Island and Western Europe. All are successfully operated by entrepreneurs who had no background in agriculture. TAPKIT's-grown fresh produce is sold locally to the neighborhoods, local stores, hotel and restaurants in close proximity to the growing site, offering freshness that is second to none.

TAPKIT is perfect for various application, for family farms, resorts, schools, nursing homes, supermarkets, restaurants and large organizations' kitchens.