Crop Quality
Extend Vase Life of Various Cut Flowers by LONG LIFE
Gadot Agro has developed a new formulation designed to improve the quality and extend vase life of cut flowers at the consumer's level.
Yigal Slonim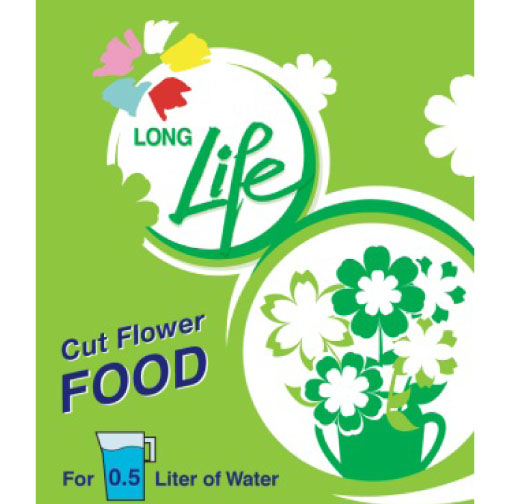 gadot agro, formerly known as milchan bros, has a long reputation in developing commercial solutions, designated the t.o.g.® series of pretreatment compounds, to be used at the grower's level for preserving and improving the quality of various cut flowers.

recently, gadot agro has developed a new formulation of 'cut flower food', marketed as long life fig. 1), and designed to improve the quality and extend vase life of cut flowers at the consumer's level. this new formulation contains bacterial growth inhibitors and sugar, and serves as a universal solution suitable for all kinds of cut flowers and ornamental branches, safe for human use and environmentally friendly.
long life protects cut flowers from various microorganisms, while keeping a clear vase solution without bad odor for up to 14 days.
thus, there is no need to refresh the vase solution or to recut stem ends. the efficiency of long life in preserving the quality of various ornamentals was examined in the company vase-life room, and in the unit of post-harvest research of floricultural crops at the agricultural research organization (aro) in israel.

the experiments were conducted under the supervision of dr. shimon meir and dr. sonia philosoph-hadas at the department of post harvest science of fresh produce, the volcani center. the vase life and quality of the ornamentals were evaluated in 4 replicates (5 stems each), held in a standard observation room maintained at 20c, rh of 60-70% and a 12-h photo period .
long life efficiency was examined with various flower species and cultivars, and 2-3 experiments were performed for each crop, including: roses, carnations, gerbera, gypsophila, trachelium, solidago, asclepias, lisianthus, phlox, grevillea, limonium and leucadendron.
a few examples of these experiments are presented below. when compared to tap water, long life solution dramatically improved opening and quality of two cut phlox cultivars (fig. 2).
the flowers treated with long life maintained their original color and did not wilt.
consequently, the flowers vase life was extended by 5 days ('windsor') or doubled ('van gogh') (fig. 2). also in lisianthus 'picolo bi color' flowers long life improved significantly the quality and extended vase life by 50% (fig. 3).
long life solution significantly improved opening, quality and color of cut grevillea 'misty pink' flowers during 6 days in the vase, as ompared to chlorine solution
(fig. 4). the treated flowers could be kept for more than 10 days in the vase. long life was found also to be beneficial for ornamental branches (fig. 5). since many cut flowers are marketed in bouquets, the effect of long life was examined on the quality and vase life of cut 'mercedes' roses held separately or in bouquets with asclepias tuberosa and solidago flowers.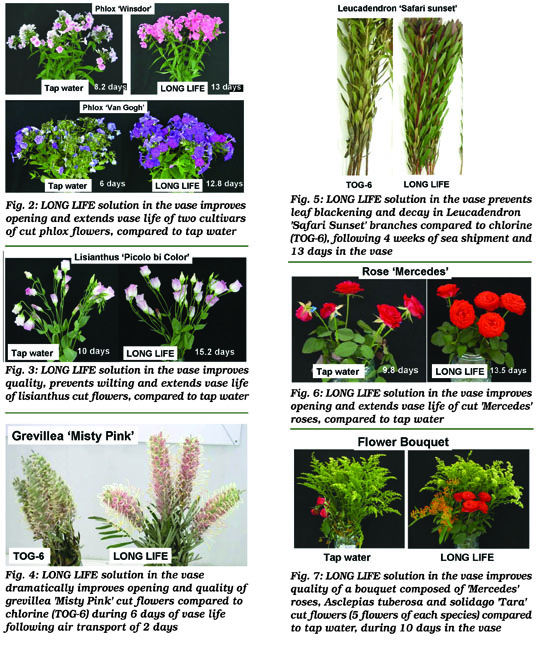 long life extended by more than 3 days vase life of 'mercedes' roses kept separately (fig. 6) or in a bouquet, while improving also the quality of the other flowers in the bouquet (fig. 7). in all the tested cut flowers, long life compared favorably to other currently available commercial products of 'cut flower food'.

it seems therefore, that the new product of long life may serve as a simple and effective means to improve quality and extend vase life of various cut flowers and ornamental branches, kept separately or in bouque.