Agriculture Cooperation
Chinese VP in Israel to Establish Agricultural Cooperation
Chinese vice premier Wang Yang and a delegation from China visited Israel to forge a cooperation and learn about the latest agritech technologies.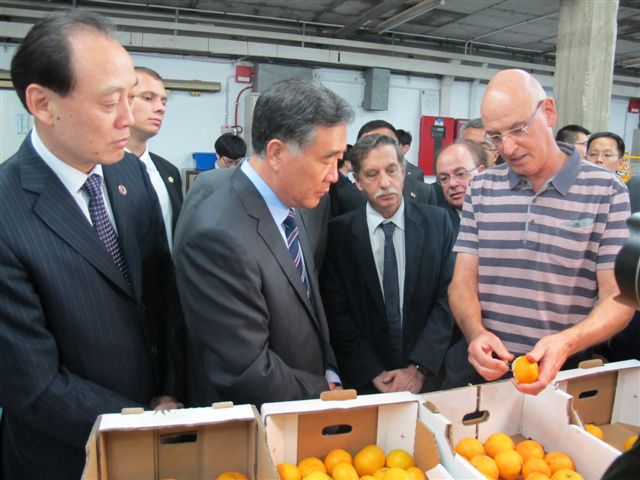 chinese vice premiere wang yang is in israel, visiting the israeli ministry of agriculture and development in beit dagan and at the volcani research center (aro). israel's minister of agriculture uri ariel hosted the prestigeous visitor, said the chinese market is "thirsty" for knowledge and interested in founding a joint initiative for agricultural development for the benefit of both nations.
minister ariel also emphasized that the basis for the cooperation is creating a win-win situation, and that it is possible that israel will lower taxes on imports arriving to israel from china, such as frozen fish, for the benefit of the israeli consumer, and in the interest of china.
one of the objectives of the cooperation was to bring the chinese to buy israeli products. for example, if the chinese establish dairy farms, they will likely buy relevant equipment from israeli suppliers.
the two sides also signed an action plan for enhancing bilateral agriculture cooperation. prior to the signing a panel took place discussing the cooperation with the participation of dr. avi perl, chief scientist, professor yoram kapulnik, head of the aro and itzhak ben david of the foreign trade administration.
following the signing, the delegation went on a tour of two research sites in the volcani center. in the center for the storage of agricultural produce, prof. moshe kostyukovsky explained to the guests about the latest research in wheat and prof. elazar fallik explained about the latest research in lengthening shelf-life for produce. the delegation then went on to visit the dairy farm, where prof. sheenan harpaz of the volcani center updated them on the latest technologies in the dairy arena.