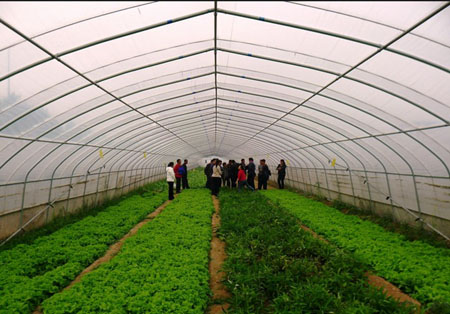 Agriculture knowledge
China a Major Market for Israeli Agricultural
China may become the biggest market for Israeli agricultural goods
Mully Dor, Chairman of the Negev Institute for Strategies of Peace and Development
As the world's largest economy in terms of purchasing power together with current high national growth and ongoing significant government investment in agriculture China has become a key global export destination. An Israeli delegation recently found that the potential for sales of Israeli agricultural products on the Chinese market is huge. Every Israeli exporter of agricultural produce or industrial agriculture-related products should seriously consider entering the Chinese market as part of its overall strategy. Regrettably, only a few Israeli companies have actually succeeded with this strategy.
Israel imports Chinese goods and services amounting to 8 billion dollars while its exports to China are only about 2 billion dollars. The Chinese firmly believe in business reciprocity and cooperation so that the export potential to China is immense.
In addressing this trade imbalance, the key to success in developing the export potential may lie in the actual agricultural product, while acquiring a sound understanding of how best to realize this potential is a prerequisite. The products relevant for the Chinese and Asian markets are unique industrial products, agricultural products and irrigation equipment.
Commercial success in China and Asia depends on learning the basics about the market: Regulations, competition, prices, distribution, marketing conditions and similar.
– Acquiring knowledge about how the government works and what kind of development interests the Chinese government;
– Choosing the most suitable strategy for the product and company concerned: Partnership? JV (Joint Venture)? Distributor? Building a factory?
– Understanding Chinese culture: Integrating into that culture without aspiring to change it.
– Learning all there is to know about the entity or person with whom you intend work – who is going to direct activities in China.
Companies and cooperatives considering exporting to Asia should first and foremost be aware of the existing cultural differences, and make a genuine effort to understand them to avoid the "culture shock" associated with Chinese culture and avert the otherwise inevitable failure of the venture.
The sheer size of this vast country must be taken into account and so any activity should begin with just one province (which may be as large in size as a country such as Germany or France).

During a recent visit to China the Israeli delegation discussed and agreed on cooperative ventures to increase Israeli agricultural exports to China. Chinese clients are interested in expanding imports of Israeli fruit juice, avocado and citrus fruit, as well as plastic products to improve agricultural irrigation, control systems and hi-tech products. Logistic assistance using storage and distribution systems in tax-free zones in China also appeal to them.
The delegation also discussed various imports from China for Coop Israel.
To develop further commercial agriculture-related connections agreement was reached to organize additional study sessions at the Negev Institute for senior managers from China on the issues of cooperative development and combating desertification. These sessions are a continuation of the further study seminars held in previous years for managers from India, Sri Lanka and China.
The success of agricultural exports to China requires a change in attitudes and policies on exports to China by the Ministry of Agriculture and Rural Development and the Israeli agricultural organizations. Currently Israel exports only a small quantity of Medjool dates and this is partly due to an oversight by the Ministry of Agriculture and Rural Development in organizing the export of citrus fruit (exports were suspended in the past after the discovery of a fungus), avocado and additional agricultural products for which there is a high demand in the growing Chinese market.
Israel is famous worldwide for its innovations and even more so in China where the government encourages the import of agricultural and industrial products, which can provide a suitable response to the immense local demand, which is growing quickly, together with the increase in the standard of living. This fact could easily constitute a definite business opportunity for Israeli companies in China.
Our advantage as agricultural cooperatives (kibbutz and moshav settlements, regional organizations and kibbutz industries) stems from the high level of trust prevailing among the cooperative organizations on an international level. As members of the International Cooperative Alliance – Asia we have a long record of cooperation, mutual trust, sound relationships and friendship, which have borne the test of time. During our most recent visit we met the current president of the Asian Cooperative Alliance Lee Choonseng, the vice president of China Coop, who stated that the relationship, which has been established between us and the fine friendship which has been proven to be mutually reliable open up an opportunity to create significant joint business ventures.
China Coop has excellent connections with the Chinese government and they are willing to allow us to avail of their services in promoting business deals with Israel on both the provincial and national levels.