haifa group, a world leader in specialty soluble and controlled release fertilizers, made a strategic decision to enter the arena of open field complex fertilizers. the result is the innovative haifa turbo-k™ product, a new grade of complex npk granule generated from multi-k™ potassium nitrate.
avi stein, product manager at haifa group, explains the unique benefits of the haifa turbo-k™: "most complex fertilizers up until today made use of sop – sulfur of potash, or kcl- potassium chloride. both include a high amount of elements which harms the environment, and can harm the plants." according to stein, the new haifa turbo-k™ contains significantly less sulfur and chloride, making it safer for use.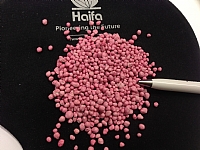 "and this is not the only advantage", stein added "haifa turbo-k™ is based on kno3 (potassium nitrate) so it's a chloride free fertilizer, unlike as the kcl based products." chloride is harmful to the environment and the plants. in addition, the relatively high levels of no3 (nitrate) in the haifa turbo-k™ prevents the chloride that is naturally present in some soils or water resources from being absorbed by the plant, protecting it and helping it to thrive.
what haifa turbo-k™ does contain is significantly more nitrate than ammonium. the latter impairs the uptake of essential plant nutrition elements (k, ca & mg). "the optimal balanced ratio of nitrate/ammonium helps the plant to absorb the nutrients much better," says stein.
haifa turbo-k™ also provides higher nutrient content comparing to sop based fertilizers, allowing the grower to save time and money be reducing the number of applications during the season.
in one uniform granule, haifa turbo-k™ provides plants with highly valuable nutrients combining the multi-k™ potassium nitrate benefits, plus essential macro and micro nutrients. all making it ideal for open field, orchards and turf production.
haifa turbo-k™ in currently available in south-eastern europe, south africa, australia, mexico and france. "the reactions to this innovative product have been very enthusiastic." stein concluded, "agronomists who tested it, together with growers who already used it are most impressed with how effective it is".