Agriculture knowledge
A memorandum of understanding for historic agricultural cooperation
Ground breaking agricultural technology from Israel to the rest of the world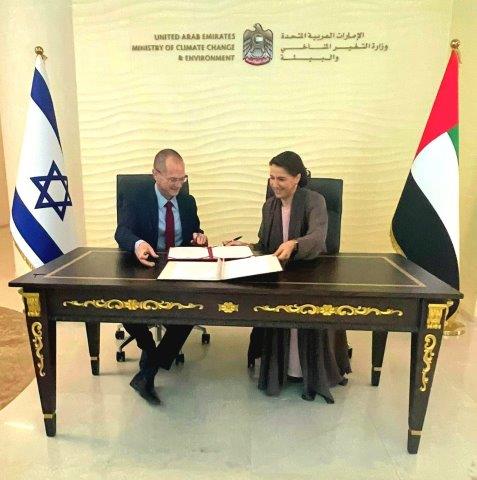 For the first time, joint working teams will be established, which will integrate entities from the private sector in Israel and the UAE, and in particular from the agro-tech industry, in order to maintain food security in Israel and to realize the potential of the local agriculture industry against the background of the effects of climate change
The Minister of Agriculture, Oded Forer, stated: "Israeli agriculture, throughout the years of its existence, has always been ground breaking and through huge investments in innovation and in R&D, we are reinstating it as such today. The extraordinary memorandum of understanding I signed emphasizes the cooperation between the countries, in order to preserve sustainable agriculture and to continues to ensure the security of Israeli food, especially in light of the effects of global warming that is showing its signs"
About two and a half years after the establishment of the historic Abraham Accords, the Minister of Agriculture and Rural Development, Oded Forer, and the Minister of Climate and Environment of the United
Arab Emirates, Marim Al-Mahiri, this morning (Wednesday) signed a memorandum of understanding for exceptional agricultural cooperation between the two countries. Under the agreement, for the first time, expert teams will be set up to help promote trade in knowledge, technology and agricultural produce, in order to ensure fresh food production and food security, against the background of the global climate crisis, for the citizens of the two countries.

Through the new agreement, Israel's existing agricultural cooperation with the United Arab Emirates will be expanded, in particular with regard to the commercialization of knowledge and the integration of advanced agricultural technology from Israel in the UAE, which is expected to significantly strengthen the Israeli agro-tech industry. As part of the agreement, Israeli-UAE working groups will be initially established, which will promote joint projects, while integrating private companies and organizations in the private sector, both in Israel and in the United Arab Emirates. Among the issues that will be raised: Continued stability of food production in the two countries, against the background of climate change, maintaining food security, development and technological-agricultural innovation.

Currently, the State of Israel is considered an agro-tech incubator, developing some of the most innovative solutions for growing food in the reality of climate change. As part of the policy piloted by the Minister of Agriculture, Oded Forer and the Director General of the Ministry, Na'ama Kaufman-Pess, since taking office, there has been a special emphasis on promoting Israeli exports in agriculture and quality products grown in Israel, together with exporting advanced knowledge and technological capabilities developed here. This, as a tool for dealing with the global climate crisis, and for promoting food security and sustainable agriculture.

Moreover, the State of Israel has extensive experience in establishing agriculture in arid and semi-arid areas; It ranks first in the world in terms of water recycling and its uses for agriculture and is considered a world-renowned developer of solutions that incorporate effluent in intensive agriculture. Through the agreement, Israel will be able to support its ally's efforts to promote regular fresh food supply – food security, and help establish local agriculture adapted to the unique weather conditions there.
The Memorandum of Understanding also refers to the protection of flora and mutual recognition of regulations and standards that will allow, on the one hand, import and export of fresh agricultural produce on a regular basis, and, on the other hand, ensure compliance with sanitary and phytosanitary aspects. This is to prevent the import and export of lesions, pests and diseases, which could harm local agriculture in the short and long term.