Agriculture knowledge
The Etrog Season has Began
Agriculture ministry inspectors foiled an attempt to smuggle 40 Etrogim (citron) from Barcelona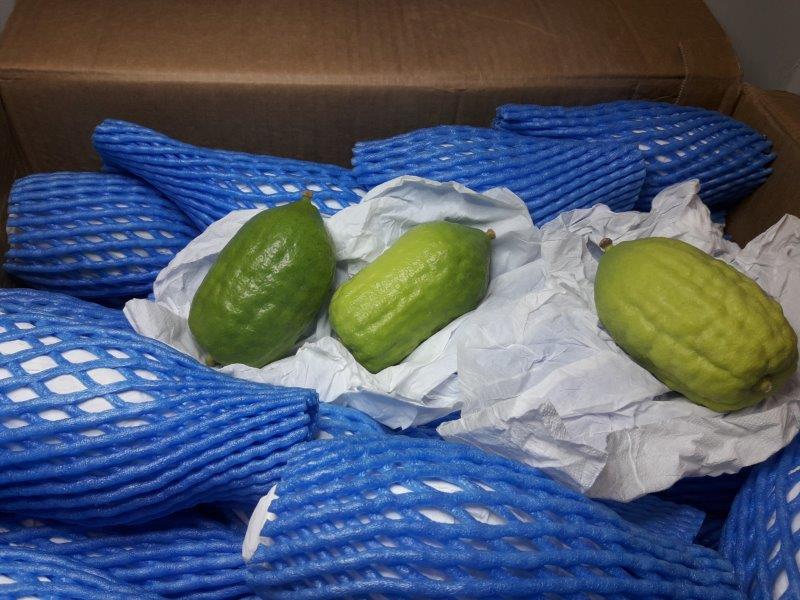 Inspectors from the Plant Protection and Inspection Services at the Ministry of Agriculture at Ben Gurion Airport revealed the smuggling of 40 high quality etrogim estimated to be worth thousands of shekels, hidden in a woman traveler's suitcase in a carton. The woman, a resident of Ashdod in her 40's, arrived on a flight from Barcelona and declared her suitcase was lost. The suitcase, which arrived several days later, underwent an x-ray check, during which the smuggled etrogim were discovered.

Under normal conditions inspectors from the Ministry of Agriculture perform routine inspection of flights arriving in Israel, but towards the Holidays and during them the inspection is even tighter, due to the many flights and past experience showing that on the eve of the Holidays, there is an increase in smuggling connected with the Tishrei Holidays, especially of the Four Species (citron, palm branch, myrtle and willow branches).

Toward the Holidays, the Agriculture Ministry announces that each traveler entering Israel is permitted to import to the country along with himself a single Etrog for personal use, and upon entering the country, to present it before the representative of the Plant Protection Services of the
Ministry of Agriculture located at the border crossing, who will examine the Etrog for the purpose of preventing entry of pests into Israel. Importing the other species – the palm branch, myrtle and willow is forbidden, since there is no possibility to check these plants upon arrival, and an uninspected import like this conceals the actual risk of introducing infective agents that don't exist in Israel. Since there is a ban against importing sets of the Four Species from abroad, to prevent distress, the Ministry of Agriculture will provide a personal Israeli grown set to travelers who bring a set with them from abroad.

Oren Shoval, coordinator of Travelers' Inspection, Ben Gurion Airport, in the Plant Protection and Inspection Services at the Ministry of Agriculture: "During the Holidays many travelers enter and leave Israel. It is important to remember that no plant, seedling, vegetable, fruit or seeds from other countries may be imported to Israel. Import of plants or plant products from abroad without inspection, is liable to introduce infective agents with a potential to cause great and irreversible damage to plants and agriculture in the State of Israel. Furthermore, I would emphasize that this ban is a law, and whoever violates it is subject to a fine or to prosecution."