Fresh Produce From Israel
The Bibical Fruit – Etrog arrived to Israel from Morroco
The Agriculture Ministry announced the arrival of first-ever shipment of Moroccan etrogs to Israel
SHARON UDASIN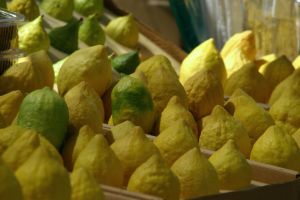 The first-ever shipment of Moroccan etrogs to Israel has arrived, bringing a type of the fruit considered to be the original from the biblical period, the Agriculture Ministry announced on Wednesday.

Etrogs (citrons) are one of the Four Species Jews use during Succot, along with lulavs (date palm fronds), hadass (myrtle) and aravah (willow).

The Moroccan Etrog grows in the Atlas Mountains, which according to biblical scholars is the birthplace of the etrog mentioned in the Bible. This type is particularly popular among Jews of Sephardic origins, the ministry explained.

The decision to import the 1,500 etrogs from Morocco occurred when the heads of the Sephardic community in Israel approached the Agriculture Ministry with a request for these specific fruits. Afterward, a ministry team from Plant Protection and Inspection Services conducted examinations of the fruits, to ensure that no problems or lesions would prevent the fruits from "making aliya," the ministry said. Following the thorough inspections, the etrogs arrived on Tuesday.

In addition, the Agriculture Ministry has been importing the fruits from Calabria, Italy, for a number of years, as the unique version have particular value among members of the Chabad Lubavitch community, the ministry said.

Domestic etrog growth amounts to 150 hectares of land, or about 1 million etrogs a year, of which about 300,000 are typically exported to Jewish communities in 30 countries.

About 85 percent of these exports go to the United States, the Agriculture Ministry said.

Etrogs, which belong to the citrus family, sell for anywhere between NIS 10 and NIS 500 each, with their average price falling around about NIS 40, according to ministry data.

Every year, Agriculture Ministry inspectors place a careful watch at the airport to deter smuggling of etrogs, as their entrance without supervision can introduce diseases to the country's crops. Such diseases could affect the country on a number of levels, by degrading products quality, closing export markets and damaging the environment, the ministry said.
12/9/13 The Jerusalem Post