Agriculture knowledge
Agriculture Knowledge
The 21st International Agricultural Technology Exhibition & Conference
We are delighted to announce "AGRITECH 2023"!
The world's leading Agri-innovation exposition for Food Security solutions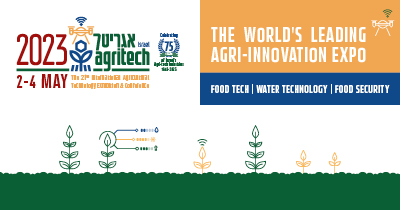 Agritech is THE exhibition you MUST visit if you want to learn about the advanced technologies and innovative solutions related to agriculture in the 21 Century.
Since 1976, "Agritech" has been known worldwide as one of the leading agriculture exhibitions, which is no surprise since Israel is an R&D center of agriculture, Agtech, and Food tech. Every three years all marketeers' manufacturers and growers from various agricultural sectors come to "Agritech".
In 2018, more than 20,000 people from over 72 countries around the world visited the exhibition, learning about new breakthroughs, developments, and inventions in the agriculture sector.
After a 5 years hiatus, the International Agricultural Technology Exhibition & Conference is returning, taking technology innovation and R&D to the next level!
Join us and discover all the new breakthrough solutions and technologies used to challenge crop and fruit growing, irrigation and water shortage, climate change, desertification, post-harvest, and food tech.
Let's create professional connections and learn about Agri-innovation, meet the manufacturers, technology suppliers, new startups, and fellow visitors from other countries.
We are excited to invite you to participate in this innovative and amazing experience taking place in Israel, leading agriculture technology for 75 years.
Such a small country- such great inventions!
One Visit, multiple experiences! 
Join us for an exciting week, in multi-locations all over Israel, 2-4 May 2023, where you can learn and benefit from:
The main exhibition, taking place in the Expo Tel Aviv International Convention Center between May 2nd and May 4th
Participating in 10 Professional conferences regarding urgent agriculture issues that should be on everyone's agenda.
Discovering new products and new technologies
Learning about breakthrough research
Meeting new startups
Meeting with the manufacturers in their research sites
Visiting the experimental areas where new technologies will be demonstrated
Visiting Israel's R&D centers and the Volcanic institute
Agri-innovation demos and announcements
This visit is also a wonderful opportunity to tour the Holy Land and discover what Israel has to offer.
Taking agriculture to the next generation!
 During the "Agritech 2023" exhibition you can expand your knowledge about:
Agriculture in arid zones
Climate control
 Crop protection
Cultivation systems
Fertilizers, peat, and substrates
Food safety
Food security
Food tech
Greenhouse & covers
Horticulture
Hydroponics
Indoor agriculture
Irrigation & fertigation technologies
Israel agriculture
Machines & equipment
Management Farm
Packaging technology
Precision irrigation
Processing technology
Propagation
Seeds and Genetics technology
Smart technologies- IA, robotics
Sorting machinery
Sustainability
Turnkey projects
Vertical farming
Water and wastewater
 In addition to the above, and for the first time In Agritech, the following fields will take place in this year's events
Water Technologies
The last few years have shown us that there is no agriculture without fair water and available water sources, therefore 'Water Technology' is an inseparable topic.
The smarter, efficient ways to use water help us plant more, grow more and produce more.  Agritech 2023 will be the first opportunity to learn more about the advanced and innovative aspects of water recycling technologies; water quality, water insecurity, and wastewater.
Dryland agriculture
In a world where Global warming is affecting every aspect of our lives, the need for the knowledge, methods, and solutions for growing crops is a must. The lack of habitats and the rapidly growing insecurity of precipitation have urged the need to grow crops in desert-like climates and dryland.
Since its foundation, 75 years ago, Israel has been leading Dryland agriculture, due to the continuous need for growing crops in a desert climate. From the first pioneers who dried swamps to the modern companies that are operating today, Israel has been leading dryland agriculture worldwide.
Food tech
The combination of population growth that exceeds food production, growing awareness of the environment, and healthy food, created a new industry of food substitutes.
Over the years many Startups have invested in R&D to find solutions for future food shortages, in order to provide nutritious and worthy substitutes. Such is Bee-io who develops cultured honey (honey without bees) in a unique biological process that turns nectar into honey.
Medical Cannabis
Due to changes in regulation and the growing understanding of the medical effect, the Medical Cannabis sector in Israel has increased by 250% between 2020-2021
Developing new growing techniques and durable seeds are two examples of the growing R&D process of medical Cannabis in Israel.
The professional teams strive to develop advanced technologies, for accurate growth of Cannabis; By doing so, enabling Cannabis growers all over the world to better grow and water their crops.
Register – Agritech@promarket.co.il
Or Visit our website: www.agritechil.com
In collaboration with:
Ministry of Economy and Industry
Ministry of Agriculture & Rural Development