Precision Agriculture
Telangana Farmers Eyeing Israeli Technology
Boosting agriculture productivity in India with Israeli technology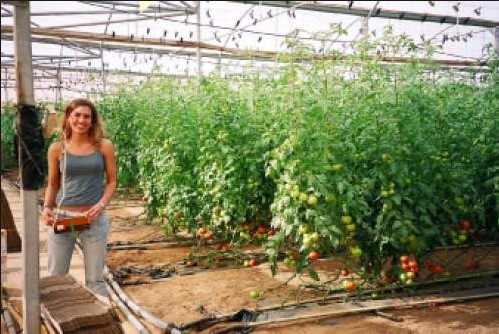 Most supply of vegetables to Telangana was coming from Andhra Pradesh, Karnataka, Madhya Pradesh, and Maharashtra, while only 20 percent of vegetable produce was supplied by Telangana farmers. Same was the case with milk. Hyderabad required 20 lakh litres of milk per day, but the government could supply only 4 lakh litres. So a team of farmers from Telangana plans to visit Israel to study farm practices in this country.

The Telangana government's goal is to harness new technology to make the State self-sufficient in agriculture and other related products. Its aim is to turn Telangana into an exporter of agricultural produce to other states in the coming years, said P. Srinivas Reddy, the Minister for Agriculture and Horticulture.

So he told the media that he is planning to travel to Israel with a team of officials to gain know-how of the agricultural practices and technology first hand and then implement them in Telangana. The Minister also held a meeting with visiting Israeli officials, including Avifriedman, Counsel General, Trade and Economic Affairs, Israel and Yahel Vilan, Deputy Chief of Mission.

Mr. Reddy asked the State's agriculture officials to achieve 100 per cent production in dairy, poultry, pisciculture, and horticulture, since the State has the optimal conditions, such as plenty of land, minerals, water, and manpower resources. However, only 25 per cent of the agricultural produce was coming from the State and the balance was obtained from other States.

The produce of the dairy industry in this state was also relatively low to the required amount. Mr. Reddy said and added that going for newer technology was essential to boost the production. "A cow in Israel yielded 40 litres milk per day while it is just 4 litres in Telangana,"

As many as 72 constituencies in the State have no sources of water and are dependent on rain-fed agriculture. There is also an acute shortage of groundwater. There was need to follow Israeli technology which ensured maximum yield with less water. The Minister said "We want to promote horticulture in 10 lakh hectares," the Minister said.

To a question, he said after the Cabinet approval the loan wavier scheme would be implemented benefiting 32 lakh farmers. The government was committed to honor all the promises it made in the manifesto, so that "In next five years no Telangana farmer should visit banks for loans," Mr. Reddy said.
Via The Hindu, published on July 9, 2014. Click here for the original article.