Agriculture knowledge
Israel and Japan will establish joint agriculture fund
The shared fund will be dedicated to Research and....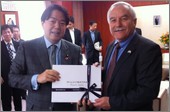 Three years ago Israel established the first R & D Fund with Italy and last year added R & D Funds with Germany and China, totaling a sum of US$ 500,000 with each of these countries.

R & D Funds benefit from joint funding, with each country financing its researchers, and the professional teams on both sides being responsible for selecting the fields of study.

During the meeting between Minister Shamir and his Japanese counterpart the fields raised were fishing, cultivation in greenhouses, the use of treated wastewater and development of the dairy industry as being potential subjects for research in the Israel – Japan R & D Fund.

Japan can be a natural partner of Israel in agriculture due to the high technological level of agriculture in both countries. In practice, the volume of agricultural trade with Japan is limited, relative to the potential that exists, and it currently totals only approximately $ 80 million, most of it relating to the agricultural produce.

In Japan, as in Israel, agriculture constitutes a national values system which is far beyond its importance in economic terms. Due to its geopolitical situation, Japan formulated a national program the aim of which is to increase its rate to 45% self-sufficiency in foodstuffs by the year 2015.

During the meeting between the Ministers of Agriculture they also discussed the opening of the Japanese market for fresh agricultural produce from Israel, mainly peppers from the Arava, spices, carrots and amaryllis bulbs.

Due to the particularly stringent Japanese requirements in the field of plant protection, it had not been possible to regulate the exports for a long time; however, now there appears to be a marked willingness by the Japanese to promote the process and approve exports from Israel, based on existing agreements between Israel to the U.S. and the EU.