Precision Agriculture
InTree™ water monitoring
Saturas offers an InTree™ water monitoring system that gives growers the confidence needed for their irrigation decisions
Natan Barak, info@saturas-ag.com VP Commercial & BD, Saturas Ltd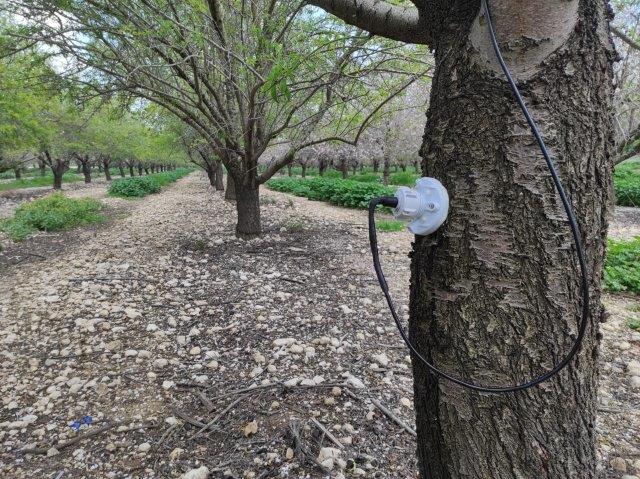 The threshold of 10 billion people living on our planet will be evident by 2050. It is a 35% population growth in a generation time – something never experienced before.
The amount of food required at that time will be almost double due to diet changes in all countries and cultures, globalization of consumption, etc.

Agriculture is our global food supplier, and to create food, we require three primary conditions: soil, water, and light (radiation). Two out of the three are already in drastic shortage: available land for agriculture and available water.
The struggle for water resources between the three sectors – agriculture, industry, and urban needs, will not increase in favor of agriculture, which already consumes around 70% of the water available in the world.
How can we overcome this challenge?
Such a significant growth requires efficiency and technology to increase production with fewer resources. Under current conditions, the only way is to significantly double food production by providing an accurate and timely response to plant needs. Precise Agriculture is what we all need!
To answer the plant needs, we must have a trusted technology that measures precisely the parameters that reflect it's status continuously during the day. Then, will we give the plant what it needs and expect to get the best result – in production, health, and quality.
Based on the leading agricultural schools that placed the manual Pressure Bomb (or Pressure Chamber) as the tool that allows creating the golden rule to determine the plant's water status, we in Saturas decided to develop the "online pressure bomb."
Since 2013, Saturas investigates and develops a sensor that delivers the Stem Water Potential (SWP), a straightforward measurement directly from the inner plants' tissues.
Saturas offers an InTree™ water monitoring system that gives growers the confidence needed for their irrigation decisions.
Our technology is based on a miniature InTree™ Monitor that delivers consistent online data on the water status and stress levels directly from the tree's water transporting tissues. Using this precious data, the grower can improve yield and quality, use of inputs and resources while improving plant and soil health.

Our technology directly measures SWP, the well-known, scientifically recognized water stress indicator. It is considered the gold standard and is valued as the most sensitive and accurate indicator of plants' water stress.
Thanks to Saturas' innovative monitoring, farmers receive year-round, digital, and continuous online SWP data of their crops.
Other available technologies measure the tree's surroundings and are subject to more variability (environmental, soil type, etc.). Saturas monitor is installed inside the tree in direct contact with the water transport tissue, delivering the SWP value itself, the parameter with the lowest variability in the plot.
In adittion to water usage efficiency, reduced energy and labor costs, and on-line monitoring of the orchard's water status, using our InTree™ service provides specific benefits for different crops:
Almond growers use RDI (Regulated Deficit Irrigation) with the main aim of avoiding Hull-Rot and efficiently using their water supply during a water shortage. As the trees are under stress, it is crucial to carefully monitor their status to reach optimal results as planned and ensure no harm for the next season. Now, with our InTree™ technology, almond growers can monitor each plot automatically in the most precise manner.
Grape vine growers, who are familiar with water stress application during the growing season, can micro-manage their vines with our InTree™ monitor and achieve optimal grape quality.
In grapevine, water stress level and it's timing, significantly impact: grape's aroma profile; the amount of polyphenols in the grape skin; and determine the wine's aging potential. This improvement in quality translates to profit.
Apple growers will benefit the technology during the fruit growth period as SWP has a strong link to fruit size in apples. Pre-harvest irrigation pause is a common practice in order to affect fruit firmness and avoid fruit damage during harvest. Tight water status monitoring in that period is a powerfull tool for the grower to decide on irrigation commence timing according to the data received from the trees themselves.
Our monitors are spatially spread in the farm and installed on chosen representative trees, enabling the grower to understand what the trees are experiencing in a constantly changing environment.
Saturas offering includes hardware, software, and service.
The grower gains access to real-time data on the Saturas web platform, great analysis tools crucial for quick decision-making and immediate execution in the field.
Saturas' technology has proven itself in thousands of installations worldwide in many various crops. We work closely with top growers, investigation centers, and leading AG and Irrigation companies in the market.
The need for higher and quality yields, changes in regulation, and habits require modifications in everyone's mindset on the planet. The agricultural sector has to adapt rapidly to those changes, and the Saturas monitoring service – is among the easiest and obvious tools for the AG sector to use.
For more info contact us: www. https://saturas-ag.com/
This article was originally published in Precision Agriculture digital issue.