Precision Agriculture
Integrated management of aerial imagery with field data improves farmers' productivity
AgriTask, indicates four methods to optimize the use of aerial imagery in the field
Amit Noam* and Yoav Mor*, AgriTask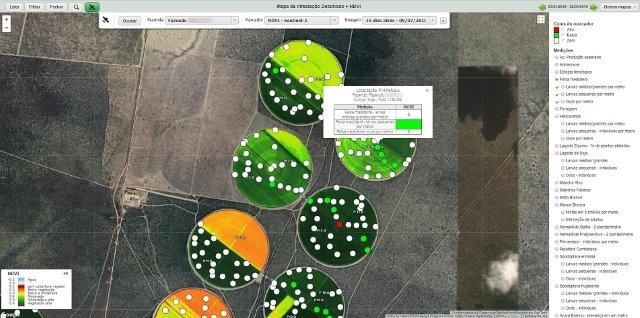 Aerial Images, received from satellites, planes or drones, are not new to the field. Aerial imagery by itself, however, is not sufficient. It does give an indication of problems in the field, but does not identify their root cause. It must be integrated into digital management systems and augmented with additional field data in order to complete the full picture and bring concrete benefits to the agribusiness.

AgriTask, a global agri-business intelligence company from Israel, indicates four methods to optimize the use of aerial imagery in the field:
Integrate imagery with a digital management tool
The idea is to access aerial imagery within an integrated solution which collects and manages the various types of data collected in the field. By crossing problematic "spots" seen in aerial imagery with information on pests, phenological stage, plant height, irrigation and precipitation (to name a few), it is easier for farmers to track down the root cause of problems. In AgriTask for example, we have a simple interface with configurable filters, where you can select as much data as needed and display it precisely on the maps.
Compare historical images via an image library
Having old records organized and at hand for a quick consultation is essential. It can become an input for future planning. Similarly, with the technology race in the industry, the expectation is that in the coming years artificial intelligence (AI) tools will emerge, capable of making decisions for themselves – historical series stored in libraries will be essential to feed them.
Plan inspections
From the operational point of view, aerial imagery enables you to chart a more accurate route for field inspection. Integrated with apps installed on scouts' mobile devices, this planning ensures that the visit is done in the right places at the right time.

Estimate productivity
Developed by AgriTask, based on a request made by the O Telhar group from South America, this functionality allows to calculate a productivity estimate of a given plot based on the NDVI analysis of the plot images. This prediction helps you gain more accuracy in the calculation of material application and reduces costs as well as facilitates financial planning. At O Telhar, the solution was used in cotton crops and helped to define collection points for the calculation of productivity, and was subsequently tuned to fit the needs of our orchard and viticulture customers as well. "Collection of samples is difficult and expensive, and we have managed to halve the collection points in the field and increase the precision of the analysis," explains Pedro Selegato, O Telhar group's production unit manager.
*Amit Noam (COO) and Yoav Mor (Solution Engineer) at AgriTask