Agriculture knowledge
Inauguration of an Israeli Agricultural Center in Rwanda
FM Inaugurated an Agricultural Center in Rwanda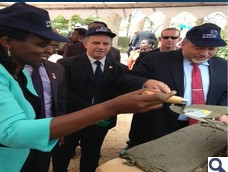 The inauguration ceremony was held during FM Avigdor Liberman's 10-day visit to Rwanda, Ghana, the Ivory Coast, Kenya, and Ethiopia.
The Center of Excellence for Horticultural Development was established by MASHAV following a request made by Dr. Agnes Kalibata, the Minister of Agriculture of Rwanda, to set up a special center for advanced horticulture designed for all levels of the farming community, from small holder farmers to commercial farmers.
The design and implementation of the project were carried out by CINADCO – MASHAV's main professional and operational affiliate for international agricultural rural development cooperation. The center is based on the Indo-Israel model of "Centers of Excellence in Agriculture''. It includes the production of 4 main products; transfer of knowhow, capacity building and demonstration, agro-inputs (nurseries for better seedlings and varieties), and fresh produce. The center will present a whole range of technologies for horticulture production under cover and open field, and will be made available for applied R&D, training and exhibition.
The Minister of Foreign Affairs Liberman was accompanied by Head of MASHAV Ambassador Daniel Carmon, and joined by a delegation from the Israel Export Institute, including representatives from some 50 Israeli companies, with the aim of developing economic ties between Israel and the African countries.
Prior to the visit, FM Liberman stated: "I see great importance to investment in Africa, in the humanitarian, economic and political spheres. There are many areas where Israel can help with aid and development: Agriculture, water management, medicine, and more. We have established partnerships with various countries for investment in Africa, including the United States, Canada, and Italy, and the highlight is the African Initiative, a joint project with Germany that was decided upon during the last meeting of the Israeli and German governments."
Via MASHAV Israel's Agency for International Development Cooperation, published on June 11, 2014. Click here for the original article.

Source of photos: MFA