Aquafarming
Endangered Jordan Tilapia Fish Saved by Israeli Researchers
Falling water levels in the Dead Sea led to endangering Tilapia fish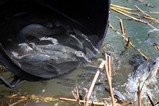 falling water levels in the dead sea have changed the flow of the fresh water springs at the einot tzukim (ein feshcha) nature reserve.
consequently, the pools and lakes that were home to many rare species of plants and animals began to dry up. thus, endangering many species including the jordan tilapia.
aware of the jordan tilapia's danger of extinction the israel nature and parks authority sought help from the ministry of agriculture and rural development's fisheries department. researchers at the ministry of agriculture accepted the challenge and began their efforts by studying a survey conducted by a fisheries department research team from the dor research station 10 years ago that found after an extensive worldwide search that the ein feshcha nature reserve is the only natural location where this particular species can be found.
israel is the northernmost point in the world where tilapia are found and the jordan tilapia whose origins are in the jordan valley is one of its two species. tilapia serves as a popular food for fish worldwide and are also grown commercially in israel. realizing that they could only depend on the existing fish stocks in the jordan valley, ministry of agriculture researchers transferred some 200 samples of fish from the reserve to the fisheries department's station at dor for acclimatization and rehabilitation. using controlled conditions and sparing no effort they managed to establish a new, healthy generation of fish.
the project's success enabled the researchers to release the first group from this new generation into the reserve in recent weeks, to be followed by an additional group a few days ago. a breeding group of 120 fish (some 70 of which are female) has been kept at the dor station, in order to preserve the species and to enable repopulation should the need arise.
an additional breeding group is being kept at the vulcani institute in beit dagan, israel. eyna bennet-pearlberg, who directs the ministry of agriculture and rural development's dor station, pointed out the importance of maintaining this breeding group in ensuring the preservation of nature and the range of these species, especially when natural habitats such as einot tzukim are threatened and imperiled. .