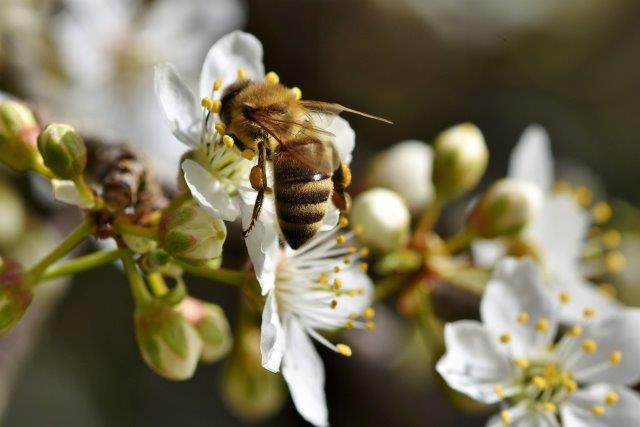 Agriculture knowledge
BeeHero Attracts $4M Seed Funding to Help Farmers Increase Crop Yields & Protect Pollinators
BeeHero brings exciting new technology to the beekeeping industry
BeeHero, the Precision Pollination Services company, announced $4 million in seed funding from Rabo Food & Agri Innovation Fund, UpWest, iAngels, Plug and Play, J-Ventures, and Good Company to implement technology and services for growers that radically de-risks pollination and stimulates maximum output potential during pollination cycles. BeeHero's agtech platform increases crop yields and decreases overhead using a combination of machine learning algorithms and low-cost sensors, including smart beehives, that report hive health in real-time. By continuously tracking and optimizing pollination, BeeHero ensures healthy and hyper-efficient pollinator bees that increase crop yields by up to 30 percent on average for 70 percent of major crops.
The Other Global Crisis
The number of crops requiring bee pollination is increasing, creating unprecedented urgency for managed honey bee colonies that help farmers meet surging consumer demand. In the United States alone, more than 2 million colonies move around the country each year to states with ideal climates and orchards: California for almonds, Iowa and Illinois for soybeans, Washington for apples, Maine for blueberries, and Massachusetts for cranberries.
According to the Agriculture and Consumer Protection Department of the United Nations Food and Agriculture Organization, the total value of global crops pollinated by honey bees is as much as $577 billion globally and represents 35 percent of the world's crop production for 87 of the leading food crops worldwide. However disturbing increases in the mortality rate of global pollinator bees due to crop protection products, loss of natural habitat, and spread of pests from globalization and climate change are having overwhelming financial repercussions for farmers facing crop losses and straining the global food supply chain.
"Stronger pesticides, fewer resources, and exponential demand are threatening modern agriculture," said Itai Kanot, co-founder and chief beekeeper at Beehero. "We need to help growers do more with less."
Individual pollinator colony health can also change dramatically over a short period of time, but BeeHero technology allows growers and beekeepers to be automatically notified of changes to key colony health indicators that provide actionable data, year-round, informing pivotal decisions about feeding, treatment, swarm management, and queen replacement.
"BeeHero brings exciting new technology to the beekeeping industry," said Dave Mendes, former president of the American Beekeeping Federation. "BeeHero's technology makes it much easier to plan for the season ahead."
To help face these challenges, Beehero's precision pollination services enable commercial growers to optimize crop-yield for many major crops and have demonstrated success across a range of produce and flowers in self-pollinated, wind-pollinated, and insect-pollinated fields. The company currently has over 20 thousand hives, or an estimated 1 billion bees, already in contract.
"We invest in companies that look beyond traditional models of thinking and behavior," said Richard O'Gorman of Rabobank. "The health of pollinators plays a fundamental role in supporting the world's natural ecosystem and food production.
In a world where food supply is under increasing pressure, it is imperative that we maintain the health and sustainability of bees. There is no greater call than ensuring the world's food supply and protecting the pollinators responsible for it.
Beehero connects bees to the digital age and by improving hive health increases crop yields increase. I believe Rabobank's network and financial support will play a valuable role in Beehero's transformation of the pollination industry and will benefit all stakeholders."Based in California, BeeHero operates the world's largest databases of bee and pollination performance and analysis, beehive data, yield performance benchmarking, and more, to measure pollination quality and optimize hive deployment that finally offers growers quality assurance to their bees.
About BeeHero
BeeHero maximizes crop yields through precision pollination, combining sophisticated machine learning algorithms with low-cost sensors to create smart beehives that stimulate maximum output potential during peak pollination cycles. BeeHero is founded by a team of serial entrepreneurs, data scientists, and veteran beekeepers to ensure that no flower is left behind. The company is located in the SOK Development Center, which opened early this year. It serves as an operations center for startups, developers, and self-employed workers. SOK Tel Aviv is a branch of the largest cooperative workspace centers chain in Russia, and is owned by entrepreneur Igor Ribakov.