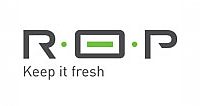 R.O.P is a leading global supplier of cast Polypropylene (CPP) specialty films and bags. We take pride in providing our customers superior packaging solutions for over 40 years.
R.O.P develops, designs and manufactures world-class products with consistent quality and attributes to meet our costumers' specialized needs. Focusing on our core values of service, innovation, quality and continual improvement, we strive to promote our business-partners' success.

R.O.P operates manufacturing facilities in Israel and the Czech Republic and stocks in 2 locations in North America, providing exceptional products, quick delivery and excellent customer service.

We proudly serve the following industries:

• Fresh produce
• Food & beverage
• Stationery & craft
• Bread & pastry
• Industrial film
With the installation of its third and most advanced CPP extruder, ROP has been able to further improve the high caliber and capacity of its products.