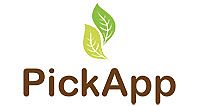 PickApp is a management & control solution for measuring picking outputs and farm tasks. The data is presented using smart field maps, customized charts and graphs allowing the user to see progress in real time and plan effectively.
Our goal is to improve the quality of work and produce by streamlining decision making according to reliable data.
Workforce Management
- Rapid check-in process means your employees start working sooner.

- Access to real time data regarding the workers increases accountability.

- Quick & Easy to use onsite checkpoints increase workflow productivity.

- Optimized payroll calculation prevents overpay and waste.

- Monitor and control agrotechnical tasks such as pest control, disease containment, trimming, trellising and more…
Harvest Management
- Field managers can make operational decisions based on accurate data that is updated constantly.

- Real Time tracking of location progress and yield output to prevent loss.

- Quality control and measuring checkpoints both in the field and in the packing house according to the client's workflow.
Management Decision Makers Tools:
- Collects, stores, and organizes farm data in an easily accessible database.

- Provides comparative analysis reporting: A/B
Interface highlights desired issues.

Identifies points of failure.

- Incentive programs- bonuses are paid according to in both activities (plants/hour) and picking (kg/hour).

- Yield calculation (kg/m2) per plot, row or plant.