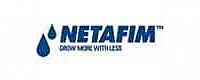 Netafim is the world's largest irrigation company and the global leader in precision irrigation solutions committed to fight scarcity of food, water and land, for a sustainable future.
With 33 subsidiaries and 17 manufacturing plants worldwide, Netafim delivers innovative, tailor-made irrigation and fertigation solutions to millions of farmers, allowing smallholders to large-scale agricultural producers, in over 110 countries, to grow more with lessTM.
Founded in 1965, Netafim pioneered the drip revolution, creating a paradigm shift toward precision irrigation. Today, specializing in end-to-end solutions from the water source to the root zone, Netafim delivers irrigation and greenhouse projects, as well as landscape and mining solutions supported by engineering, project management and financing services.
Netafim is also leading the way in digital farming, integrating real-time monitoring, analysis and automated control into one state-of-the-art system. In 2017, Orbia, a global leader in specialty products and innovative solutions acquired 80% of Netafim, Kibbutz Hatzerim holds the remaining 20%.

See how Netafim's solutions are changing the economics of agriculture and helping the world grow more with lessTM at www.netafim.com.