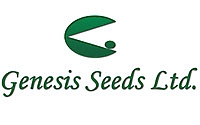 Family owned, breeder, producer of vegetables & herbs seeds. Our farm is located in the Israeli desert. Genesis is producing by the highest standards of quality. Our pride is in organic line of items.
Genesis Seeds is producing both Organic & untreated vegetables & herbs seeds. The company is packing in bulks for dealers and seed companies worldwide.
All Genesis Seed products are grown only in Israel and the company operates according to PPIS for Europe and USDA-NOP for U.S.A. and Canada.
"In seeking the best quality, we focus on Organic production under strict agro–technical methods while always looking for the best Genetics. Innovating, Breeding and Keeping a full assortment of Flowers, Herbs and Vegetables in order to fulfill and serve the Organic and Conventional markets".
Genesis Seeds Sells it's own production only to seed companies, wholesales and distributors in North America, West Europe, Israel and other countries worldwide.