Agriculture knowledge
Agricultural Cooperation between Gaza and Israel may support peace process
Gaza farmers: Exports to Israel could improve ties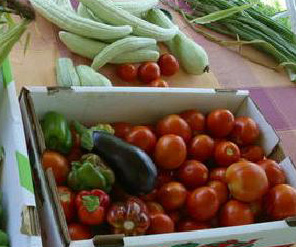 An opportunity to once again export fruits and vegetables to the Israeli market could be game-changing not only to Gazan farmers but also to the larger relationship between the Gazan people and their Israeli neighbors, farmers from the territory told The Jerusalem Post on Wednesday.

"We want to sell in Israel," said Mahmoud Ikhlain, chairman of the Beit Lahiya Cooperative.

"The market in Israel is a good market. All the time, we and Israel are in contact."

"We are neighbors," Ikhlain added.

Iklhain and his colleague Ahmed Shafai, who is head of the Gaza Cooperative Association, spoke with the Post on Wednesday under the booth of the Palestinian firm Harvest Export at the Fresh Agro- Mashov International Fresh Produce Summit and Exhibition in Tel Aviv.

Up until 2006, when Hamas took control of the Gaza Strip, farmers in the territory were able to export their fruits and vegetables to Israel. Since then, however, the farmers have been forbidden to sell to their neighbor, and they focus exclusively on exporting their goods to European markets through Israeli and Palestinian companies like Harvest Export, Arava Export Growers and Agrexco.

While the Gazan farmers cannot export their crops to their neighbor, they do import all of their agricultural equipment from Israel – a relationship that Shafai said he would like to see become two-way.

"We hope that Israel will open its markets – we can import from them and then they can receive exports from us – in order to build a good relationship between the Palestinian and the Israeli people," said Shafai, who, like Ikhlain, is from the Gazan town of Beit Lahiya.

"As you see from our visit here, we are friends," Shafai continued.

"We are not political people; we are economic people."

Agricultural partnerships and trade could become a catalyst for warmer ties between Gaza and Israel, Shafai explained, noting that the two sides can live a better life by working with each other.

Today, among Gaza's main export crops to Europe are strawberries, cherries, bell peppers, carnations and herbs, Shafai and Iklhain told the Post.

In the future, the region's farmers would like to expand their production to other types of fruits, vegetables and flowers, they said. However, Gaza suffers from a lack of both water and space for agriculture, the latter due to the overpopulation of the Strip, Shafai explained.

Hillel Adiri, one of the Israelis responsible for coordinating the Gazan delegation's visit, said that these farmers, water experts and land reclamation professionals "love to come here to agriculture events."

They are no strangers to such exhibitions and meetings in Israel and face no problems attending quite often, said Adiri, who is a senior marketing adviser in the Food and Agriculture Organization of the United Nations on behalf of the Netherlands government.

Approximately 65 Gazans and 200 West Bank Palestinians participated in the exhibition on Wednesday, according to event coordinators.

While no decision has been made yet by the Israeli government on the status of Gazan exports to Israel for the next harvest season, Adiri told the Post that discussions are underway about this possibility. A push from the Dutch government, he said, may steer Israel toward a more positive response to the idea.

Palestinians in the West Bank, on the other hand, face much fewer restrictions in selling their agricultural products and are able to "market their exports effectively and efficiently to clients in Europe" as well as the United States, said Muhammad Khader of Lausanne Trading Consultants, a West Bank agricultural shipping firm based in Beitunya.

"Last season and [in the] current season [the] civil administration at Beit El exerted outstanding efforts to facilitate the movement of Palestinian products from the Jordan River Valley in containers for certain products," Khader said during a conference – called "Trends, Challenges and Opportunities in Global Fresh Produce Marketing" – at the exhibition Wednesday morning.

Gazan products, on the other hand, receive no guarantee that they will proceed across the Kerem Shalom border crossing at all times, and in cases that crops do not move across as planned, the farmers must simply discard their products, he told the Post in an interview after the conference.

Khader in large part credited Lt.-Col. Moshe Braha of the civil administration's economic branch for the smooth transport of West Bank Palestinian goods.

These products undergo an inspection at the Sha'ar Ephraim crossing point, and then the goods are transferred to Israeli trucks before going to Haifa or Ashdod ports, Khader explained, stressing that "the process of inspection and transfer is usually efficient."

This does not mean, however, that the export processes are without need for improvement, he acknowledged. For example, due to the restricted road usage and many checkpoint terminals in the West Bank, Palestinian farmers must spend much more on tranport than their Israeli colleagues, Khader said.

Another problematic issue is the fact that Palestinian farmers are not always allowed to use stuffed containers to truck their goods, as the containers pose increased security concerns, he explained. In recent years, however, the civil administration has allowed some Palestinian agricultural containers into Israel, Khader said, after they go through inspection.

Although glitches still at times impede the transport process, by working with Israeli distributors such as the Hadiklaim Israel Date Growers' Cooperative and Arava Export Growers, the West Bank Palestinian farmers are able to market their products abroad, Khader stressed.

"Things are developing and improving," he said.
The Jerusalem Post