Fresh Produce From Israel
A New Israeli Apple "Snow White"
A new apple called Snow White was launched after seven years of research, in the North of Israel.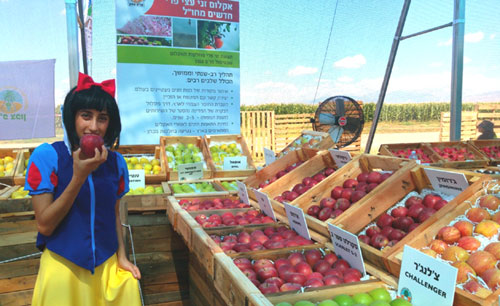 The Snow White apple was developed over seven years by Northern Research and Development (Northern R&D) of the Jewish National Fund (JNF) and the R&D Association of the Galil region. The apple was presented at an agricultural conference this week.

The apple was so named because of its size, its bright red color and its perfect shape. It is currently being grown at a pilot site in Kibbutz Marom Golan and next year will be marketed widely.
The lead researcher on the project was the late Nicolai Sindler, who emigrated to Israel from Finland after the Yom Kippur War. He was not able to see the final product marketed, but their sweet flavor will always be a reminder of the man, who dedicated himself to Israel and to the Golan Heights.