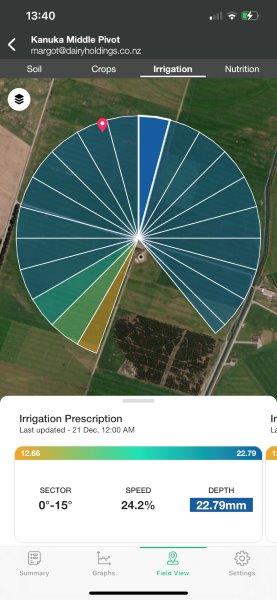 What does a large dairy cooperative in New Zealand, Mexican potato farmers who grow for PepsiCo, a global irrigation manufacturer based in the U.S.A., banana growers in Ecuador, and a potato starch processor in the Netherlands have in common? They are a part of a growing community that uses products from Netanya-based CropX Technologies to precisely and confidently manage the agronomic activities on farms.
"CropX is mastering the insights of the soil and sky to help farmers everywhere save – water, energy, labor, chemicals, and stress," says Tomer Tzach, CEO of CropX Technologies. The Israeli headquarters now manages a global team of 80 employees with offices in the Netherlands, New Zealand, Australia, and the United States. This global team has brought CropX solutions to over 10,000 farms with use on over 75 crop types, and strategic collaboration with organizations such as John Deere, Reinke Manufacturing, and PepsiCo. "CropX is clearing the path to more resilient farming by offering powerful yet simple to use solutions," says Tzach.
Water – either too much, too little, or poorly timed – is the single biggest influence on the productivity of a crop, and so it was CropX's founding focus in 2015 as its agronomists and engineers worked to create a better soil sensor and harness the data it collects into valuable insights for farmers. In 2017 they launched a DIY sensor with an innovative spiral design with built-in telemetry (the technology that transmits the data to the cloud). The patented CropX sensors don't require a technician to install and run – a 5-minute install and quick online setup make this system scalable from the small-acre farm to a large agribusiness.
Once installed, the sensors collect soil moisture, temperature and electrical conductivity (EC) at multiple depths. The sensors can be remotely configured and adjusted to each crop's unique needs. The data is geo-tagged based on GPS coordinates, creating geospatial time series for all measured data. Making it easy for farmers to activate the data from their soil sensors, CropX developed a software platform that provides clear information about when and how much irrigation is needed and can also provide automation with irrigation machinery.
From this beginning as an irrigation planning tool, CropX has been able to expand their solutions and reach quickly by curating the best technology from around the globe, incorporating into their user-friendly platform and adding the highly accurate soil sensor data from the patented CropX soil sensor. Since 2019 CropX has acquired companies in New Zealand, the Netherlands, and the United States. These acquisitions have enabled CropX to offer more digital planning and decision tools for farm management, all available in the CropX Farm Management System.
The CropX Farm Management System is a web and mobile platform that integrates the data gathered from the soil sensors into advanced agronomic algorithms that also consider crop information, soil maps, topography, satellite data, crop models, and weather data. The system then offers insights and advice on irrigation needs, plant growth and development, disease pressures and optimal spraying times, soil salinity and fertility management, effluent management and more.
CropX states a goal of making digital farming accessible to support a more resilient farming system. The company defines resilient farming as productive and profitable with minimal environmental impact. Users of the system save up to 50 percent in irrigation water, save up to 20% on chemical and fertilizer applications, reduce energy used in pumping irrigation water, reduce the machine use and manual labor used on the farm, and reduce runoff and leaching. Knowing exactly what plants need and when can also boost yields.
"It is a sophisticated system but is easy to use," says Colin Glass, chief executive of Dairy Holdings. "CropX has provided us with simplicity at scale. The CropX technology turns something complex into something we can understand, it is consistent, it allows for more confident decision making, and brings greater transparency across our farms. This means our farm managers can learn from each other to further enhance efficiencies and we can take a standardized approach to data management and reporting."
There is huge potential for digital solutions to revolutionize farming, but CropX recognizes that this is only possible if growers are willing to adopt these solutions into their operations. The technology must be accurate and dependable, easy to setup and use, and provide a measurable ROI. This is what they set out to achieve and what they are bringing to farm operations around the world.